Our "Peanut Butter" Brother- SKIPPY – is YUMMY and FUN.
SKIPPY and his brother  JIF are from a Babylon Village caretaker who brought a pregnant cat into his home to raise her babies under his care.
The boys are 6 months old, super-socialized, non-stop purring machines. They lived with a friendly Chihuahua the man saved after someone's house fire…so they really like small dogs.
SKIPPY is an affectionate kitten who will stick by you.  This "Peanut Butter" kitten is a real treat.
To meet SKIPPY by appointment at Last Hope in Wantagh, please complete and submit a cat adoption application found on the Last Hope website homepage.
(Note: Last Hope will be spaying their Mom who is staying with the caretaker. )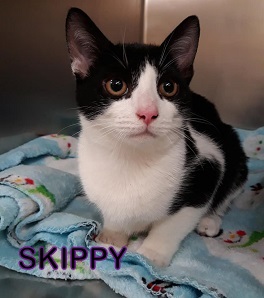 I've found my forever home! Thank you!