We want JOLLY to be Jolly.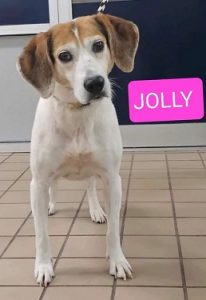 She needs a FOREVER Home with at least
one other dog in the household.
JOLLY is one of the 80 dogs seized from horrific, hoarder property in Kentucky in June. Some were confined to a filthy barn, others stuffed together in disgusting crates stacked on top of each other & the rest squeezed into an abandoned schoolbus in the yard.
JOLLY is 5 years old ..How long was she forced to suffer this way? Years? We will never know but we do know the longer a dog endures a hoarder situation, the greater probability of emotional scars.
JOLLY is sweet, but easily frightened because good people in the outside world is still a new concept to her. Men can scare her…more than women or children.
Another dog brings her out of her shell. She loves DUSTIN our Pointer mix from Georgia but he is going home soon.
JOLLY will blossom but she will begin to bloom faster in the company of another dog or dogs.
To meet JOLLY by appointment at Last Hope in Wantagh, please complete and submit a dog adoption application found on the Last Hope website homepage.
I've found my forever home! Thank you!