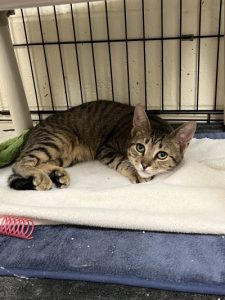 The BEACH BOYS (& GIRL) wanna have FUN, FUN, FUN in Loving Homes.? TOBAY, LIDO & JONES were rescued outside a Fire Island beach house with their nursing Mom KISMET when 4 week old infants. The feline family was fostered by Deb O. TOBAY (fluffy boy) had a bad infection in his right eye when saved ..It was too late for eye meds to restore the vision lost in his eye. He has slight vision in that eye, and our vets are undecided about whether to remove his damaged eye. Ironically, TOBAY is the dynamo of the trio. Sister LIDO is wearing a white bib -not seen here, while brother JONES is a typical adorable tabby. The BEACH BOYS ( & Girl)love to play in the meet n greet room because they can get up to speed with room to spare. These rockin' kittens are 5 months old now, and are available for adoption at Last Hope Cat Center in Wantagh as singles, doubles or triplets.
Note: When TOBAY is adopted, Last Hope will cover the bill for his eye surgery, if our vets decide removal is necessary.
If you are interested in learning more about them, please send us an email to adoptions@lasthopeanimalrescue.org or fill out an application from our website.
I've found my forever home! Thank you!