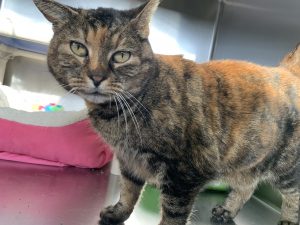 LAPPY is Happy Now.
She was quite unhappy when someone abandoned her in Farmingdale where she struggled to exist for a time. She is far too friendly. She had to be somebody's pet, and no owner was found. Lappy is a pretty 3 year old tabby with flashes of red. She considers her cage at Last Hope in Wantagh the Ritz Carlton, so a loving home will be heaven on earth to Lappy.
So if you are interested in learning more about her, please send us an email to lasthopeadoptions@gmail.com or fill out an application from our website.
I've found my forever home! Thank you!