Please Don't Tinker with TINKER BELL's Emotions. Felines Have Fragile Feelings.
Two of her Peter Pan litter siblings vanished in front of her eyes. JOHN & TIGER LILY moved to Petco Syosset but she doesn't know that.
All she sees is that her family has been cut in half. There were 4 kittens in their Last Hope Wantagh cage.. Now only 2.. TINKER BELL & PETER PAN remain, where did her other littermate playmates go?
When only a day old- when newborns, TINKER BELL & her kitten kin were discovered in a West Islip yard with their feral Mom & whisked into a Last Hope foster home.
She got lots of TLC & LOVE. She grew up with dogs…but now she & PETER PAN are in a steel cage..no dogs to hang out with…just hands on attention when the nice Last Hope volunteers stop by to care for them. She wants more! Do you blame her?
TINKER BELL purrferred life in a HOME.
PLEASE Help Find Her a FOREVER.. Maybe YOUR Home?
Use her Magic..
"Clap Your Hands & TINKER BELL will get Well, if you clap your hands. "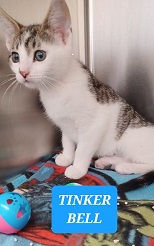 She will find a Home, and it would be great if she took the Forever Kitten-PETER PAN with her.
I've found my forever home! Thank you!