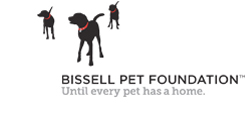 GREAT NEWS: LAST HOPE Received a $6,000 "200 Spay/Neuter Clean Sweep" Grant
from the BISSELL PET FOUNDATION.
The motto of the BISSELL PET FOUNDATION is " 'til every pet has a home",
and this generous grant will fund & expedite Last Hope's ability to prepare homeless pets for adoption.
This grant will subsidize 100 cat & 100 dog spay/neuters.
Last Hope will receive a stipend of $25 for each cat surgery,
and a stipend of $35 for each dog surgery.
Virtually all of our cats/kittens (except for those old enough from LI town shelters), and many of our Southern rescue transport dogs arrive at Last Hope still needing to be spayed
or neutered before placement.
We are so grateful to the BISSELL PET FOUNDATION for helping Last Hope strive toward finding every pet in our care a Loving HOME.