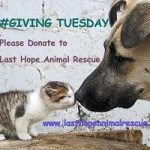 Last Hope Reminder: Tuesday, November 29th is #GivingTUESDAY. It's a whole day dedicated to generosity toward charities & non-profits all over the world. We ask you to consider us- LAST HOPE INC. on Long Island- when donating funds. Any … Continue reading →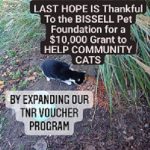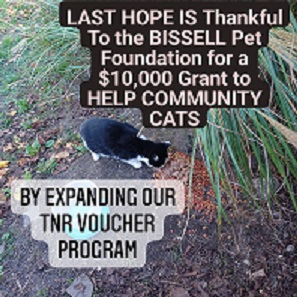 . LAST HOPE is so THANKFUL to the BISSELL PET FOUNDATION for a $10,000 Grant to Expand our TNR VOUCHER PROGRAM for Members of the Public who are Helping COMMUNITY (aka FERAL) CATS . With this generous grant , Last … Continue reading →
  IT's COLD OUTSIDE! HELP US FEED HUNGRY PETS on Long Island…. LAST HOPE Holiday Pet Food Drive– EXTENDED through Sunday, December 11th  We will be holding a Holiday Pet Food drive from this Saturday, 11/19 to Sunday, 12/11 at … Continue reading →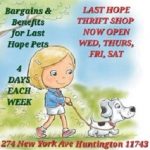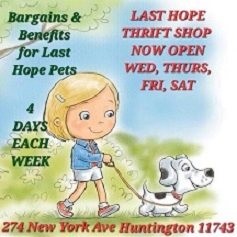 LAST HOPE ANIMAL RESCUE THRIFT SHOP 274 NEW YORK AVE HUNTINGTON 11743 (north of 25A) DAYS & HOURS: WEDNESDAY, THURSDAY, FRIDAY AND SATURDAY FROM 10AM TO 3PM  The Last Hope Thrift Shop is a Treasure Trove. We have home decor- … Continue reading →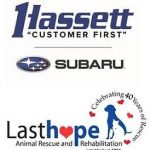 Hassett Subaru  in Wantagh will support Last Hope through the "Subaru Loves Pets Adoption Campaign" with a month-long effort to help pets find loving homes in October. Hassett will donate $100 for EVERY pet adopted from Last Hope Animal Rescue … Continue reading →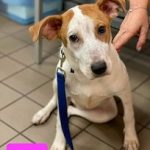 "L-O-L-A, LOLA She walks like a puppy, but acts like a dog." LOLA is a perfect pup. This Houndy 1-yr- old is another rescue from the huge hoarder house in Georgia. She is good with cats & other dogs. One … Continue reading →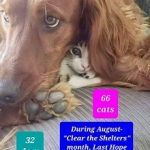 August was "Clear the Shelters " month. Last Hope participated in sending weekly dog & cat placement numbers to this national shelter adoption campaign, sponsored & promoted by NBC television. And our August 2022 tally was: 98 pets– 32 dogs … Continue reading →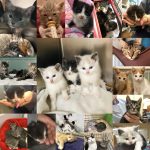 LAST HOPE NEEDS CAT FOSTER PARENTS  Every year, Last Hope receives countless requests for help from people who find kittens and cats. The majority of these animals need foster care before they can be put up for adoption. We are … Continue reading →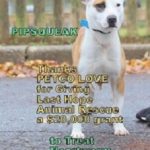 HUGE NEWS! Super HUGE NEWS! PETCO LOVE* Has Given LAST HOPE Inc a $20,000 Grant to Treat Heartworm Positive Dogs. On the average, it costs Last Hope between $1200 to $1500 to treat a heartworm positive dog . With the … Continue reading →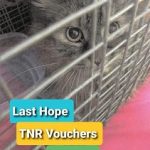 Last Hope Fix-A-Feral Voucher Program Part 3 Resumed on June 1st. As of today- June 1st, Last Hope is again accepting applications for our FixAFeral vouchers. We have added additional veterinarians and these vouchers can be used through Dec 21,2022. … Continue reading →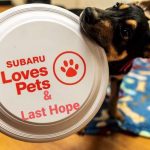 SUBARU Loves Pets & LAST HOPE SUBARU Recently Gave LAST HOPE ANIMAL RESCUE a $6,200 Grant for operating expenses at our Adoption Center. Last Fall, LAST HOPE Also Received a $4,000 Grant from the ASPCA in conjunction with the SUBARU … Continue reading →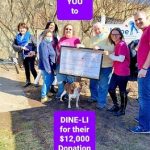 DRUM ROLL for Fantastic News: DINE-LI Donated $12,000 to Last Hope For the week after the "For Love of DINE-LI Small Business" Expo, the amount of the "Big Check" was kept secret while DINE-LI members calculated ticket, gift card raffle … Continue reading →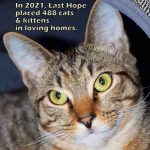 BABY, I'm AMAZED at Our Last Hope Volunteers- Last Hope 2021 Cat & Kitten Adoption Total is 488. Yes, 488 cats & kittens taken off the streets, or from overcrowded shelters, or out of harm's way, or saved from the … Continue reading →
PIPSQUEAK has Big News: " In 2021, Last Hope placed 339 dogs in loving homes- that's 286 adult dogs & 53 puppies. I am in foster home, and will be officially adopted after my Heart worm treatment.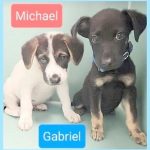 Our Archangel Puppies-MICHAEL & GABRIEL- must have had Guardian Angels Found as strays with matching collars, wandering about on their own in Lancaster, Texas, these 2 Shepherd mixes must have had someone or some power watching over them- certainly not … Continue reading →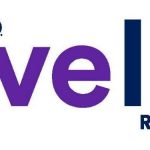 Help reunite lost pets with their families. 1 in 3 pets goes missing in their lifetime, but one click can bring them home. Join Petco Love Lost. It's free, fast, and effective. Register your pet today. https://lost.petcolove.org/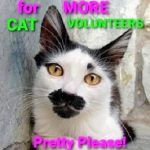 LAST HOPE IS LOOKING FOR MORE CAT VOLUNTEERS TO FILL SHIFTS   We Need Additional Cat Volunteers at our Wantagh Adoption Center Duties and responsibilities include: *Cleaning cages and areas where our cats are kept. *Feeding our cats according to … Continue reading →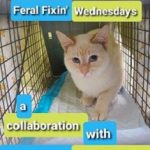 Announcing a New TNR Collaboration with Last Hope & Dr. Levitan's Helping PAW, called "FERAL FIXIN' WEDNESDAYS" where we schedule 25 feral cats for FREE TNR (Trap/Neuter/Return) at Helping PAW in East Meadow. The first "FERAL FIXIN' WEDNESDAY" was on … Continue reading →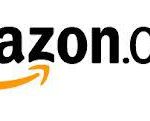 Will you be shopping on Amazon.com this season? If so, please remember Last Hope. Most purchases you can can support Last Hope without any additional cost to you through the Amazon Smile program. If you start your shopping USING THIS … Continue reading →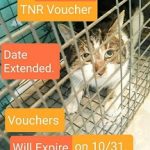 *Important Last Hope TNR Voucher News* We do NOT have any more TNR vouchers to offer right now. However, if  you do hold Last Hope feral cat spay/neuter vouchers due to expire September 30th, please note we are extending the … Continue reading →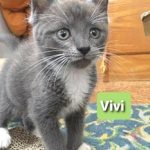 VIVI is vivacious. She is 2.5 months old now, and was born on 7/7/20. Look at her one gray toe next to all the white ones. She was rescued at only 4.5 weeks old in Hicksville, along with her … Continue reading →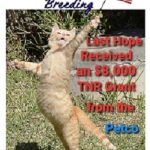 Many Thanks to the PETCO FOUNDATION for presenting LAST HOPE with an $8,000 grant to help support our TNR (Trap/Neuter/Return) Efforts for Long Island Feral Cats  The 2020 Kitten Season has become more difficult to manage because of the … Continue reading →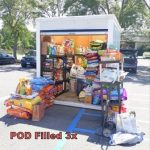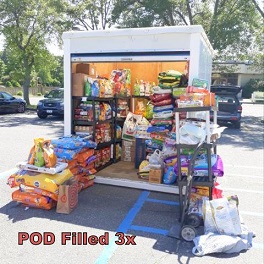 THANK YOU to our Kind DONORS who brought Pet Food to Our Drive on May 30/31st! YOU Filled the Pod with Pet Food About 3 Times to Help Owners Facing Hard Times. DELIVERED! All Pet Food Donated to Last Hope's … Continue reading →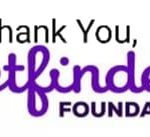 Many Thanks to Petfinder Foundation for awarding Last Hope Animal Rescue a COVID-19 Operation Grant. This $750 grant is helping Last Hope to continue rescue efforts during the global crisis, including scheduling dog & cat adoptions by appointment, fostering feline … Continue reading →
Seeing our dogs in their forever homes is one of the most rewarding parts of being a volunteer at Last Hope. Enjoy this beautiful video of just some of our adopted dogs made by a wonderful volunteer. They will always … Continue reading →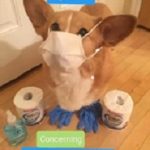 As of 4/1/2020: Due to the worsening conditions of the Covid-19 Crisis, procedures at Last Hope Animal Rescue are subject to change for the protection of our volunteers & adopters. ** Special Procedure for Cat Adoptions:  Many of our current … Continue reading →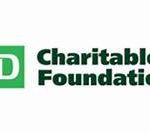 **THANK YOU to the TD Charitable Foundation** Last Hope received a $5,000 Veterinary Assistance Grant to help pet owners facing financial distress get the medical care, including spay/neuter, their pets need. Because of the pandemic, we are facing uncertain economic … Continue reading →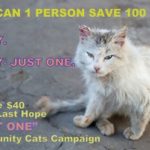 HOW CAN 1 PERSON SAVE 100 CATS? EASY. SPAY-JUST ONE. Last year we started "Just One" in early March as kitten season was beginning. As of July 2nd, we're Thrilled & Thankful to announce your generous "Just One " donations … Continue reading →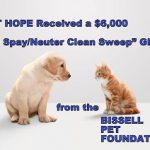 GREAT NEWS: LAST HOPE Received a $6,000 "200 Spay/Neuter Clean Sweep" Grant from the BISSELL PET FOUNDATION. The motto of the BISSELL PET FOUNDATION is " 'til every pet has a home", and this generous grant will fund & expedite … Continue reading →
Last Hope received a $10,000 Veterinary Assistance Grant from the Banfield Foundation which enables us to contribute to the medical needs of dogs & cats belonging to people facing financial hardships. Support from this generous Banfield Foundation gift can help … Continue reading →
Isn't IZZY Adorable? She is as Sweet as she is Pretty. Our 2 month old dark calico cutie with big green eyes was trapped in Huntington at 8 weeks old. She's been "back stage" at Last Hope until recently when … Continue reading →
Maize and her siblings Harvest and Autumn are beautiful orange tabby DSH cats. Maize and Autumn are not only twins, but they are females, which is unusual. These three sweethearts were born on 8/20/19. Rescued by Last Hope, all three … Continue reading →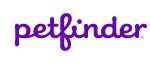 If you haven't tried Petfinder.com yet to find your FURever family member, this is a great time to check them out. Last Hope is now adding our cats and dogs that are up for adoption. Click on the ad below … Continue reading →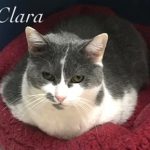 CLARA- Her Story Needs to be Shared!  Beautiful Clara is one of our overlooked darlings. Please come meet her. Adult cats make the best companions. The name Clara means clear, bright and famous in Latin. BUT, our Clara's life has … Continue reading →
PAYTON is Waitin': This Beagle Beauty came to Last Hope from Kentucky on the Bowling Green bus along with her almost twin sister POLLY. They were both transfers from a nearby Kentucky shelter onto the bus. The girls are SWEET, … Continue reading →
Columbia is a tabby and white charmer with a cute pink nose, born on 11/30/18. Columbia is one of our Collegiate Triplets who where found in Brentwood in the freezing cold. The trio were quite sick and had to be … Continue reading →
Ethel is a sleek mini-panther who was born on 5/1/18. This sweet girl was found after being abandoned in a box in a parking lot! She was rescued, lovingly fostered, and is now seeking her special person. Is your home missing … Continue reading →
Meet MAMA…. Who "Migrated" to Last Hope from Next Door. MAMA is a sweet Pit, only 18 months old, surrendered by owners to Hempstead Town Shelter when she was hit by a car & fractured her pelvis. Her fracture has … Continue reading →
BELINDA BELIEVES SOMEONE  WILL ADOPT HER SOON….. Now that she's found her way to Last Hope. This sweet Shepherd/Smooth Collie is just about a year old. Her paperwork says 6 months old but her demeanor seems more refined than your … Continue reading →
SEASHELL is one of 3 kittens (also SANDY (tortie) & SUNSET (male black) taken into the Last Hope adoption program after they were trapped and brought to one of our TNR clinics. Several are polydactyl. SEASHELL and her siblings were … Continue reading →
SAM is one of the Great Kittens Rescued in Great River… He is so outgoing & friendly, born in the spring. And HAS So Much Pet Potential .. SAM is that soft-colored beige or buff tabby. Come Meet this … Continue reading →
Say Hello to VIENNA…. She is a sweet, mellow & mature grand dame about 5-6 years old from Brookhaven Town Shelter who'd LOVE to WALTZ through LIFE with YOU. She likes kids and other mellow dogs. Meet your darling dog … Continue reading →
Meet RORY… a sweet, slightly timid Cattle Dog mix found as a stray by STAR in Kentucky. RORY is tiny, weighing about 25-30 lbs.. around 4-5 yr. old. Poor RORY has a mouthful of broken teeth. She may have been … Continue reading →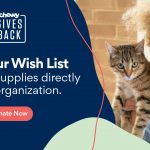 You give hope, Chewy gives back. Shop now and Chewy will donate to our cause with your first order. Click the link and shop now to support us! Use this Referral Link for New Customers – Last Hope … Continue reading →
MONKEY & BRINKLEY -SENIOR CATS IN NEED Pets that have been surrendered to shelters for one reason or another are some of the neediest animals we have up for adoption. Especially, the senior pets who have known nothing other than … Continue reading →
WALNUT is a "peanut" of a  dilute calico- rescued in Lindenhurst April 2016 at about 5 months old.- spayed, vaccinated and ready to make her debut appearance in a loving home. Bet you never adopted a cat debutante before. Yet, … Continue reading →
LOUIE is one of 3 brother pups turned into a Kentucky shelter when their owner decided to move. He is a bit more submissive than his brother BOBO, but is also gentle and submissive around other dogs. He is a … Continue reading →
This little sweetheart is BELLE! Born in September 2016 and rescued from a backyard, BELLE  is an affectionate, friendly kitten who can't wait to find her Forever home! Home fostered and vetted, BELLE is ready to meet YOU!
This beautiful fluffy girl is Salsa! (One of the five Hit Chili Pepper kittens)! Born in September 2016 and rescued from a backyard, Salsa looks like she's part Maine Coon and is an affectionate, friendly kitten who can't wait to … Continue reading →
Garfield here! If you are looking for someone to love, well I am, too! I was rescued from an eviction in Queens. What a scary day that was, but now I'm safe and looking for a Forever home! As … Continue reading →