As of 4/1/2020: Due to the worsening conditions of the Covid-19 Crisis, procedures at Last Hope Animal Rescue are subject to change for the protection of our volunteers & adopters.
** Special Procedure for Cat Adoptions:  Many of our current cats are in foster care. Some are still being cared for at our Wantagh Cat Adoption Center. Adoptable cats are still listed on the "Cats for Adoption" slideshow on our website (and Petfinder). These cats are being shown by appointment after interested adopters complete & submit an online application that is approved. The application is available at:
http://lasthopeanimalrescue.org/wp-content/uploads/2018/12/Cat-Adoption-Application-Form_rev12-2-18.pdf?fbclid=IwAR0rAc-vn8iD924T6KSwCVFGz0TOk51WKFkAQH1m
** Special Procedure for Dog Adoptions: All current dogs are in foster care. Adoptable dogs are still listed on the "Dogs for Adoption" slideshow on our website, and may be shown by appointment. If you are seriously interested in adopting a Last Hope dog, please call 631-946-9528.
** Wantagh Adoption Center: Since March 18, our Wantagh Adoption Center has been closed to the public, and less shifts with fewer volunteers in each shift have been caring for the pets still residing there.
 ** Pets in Emergency Foster Care:  All of our current dogs are in foster care with Last Hope volunteers, as are at least 31 cats who were at the Wantagh Adoption Center or one of our 4 satellite stores (Petco Wantagh, Petco Syosset, PetSmart Bellmore, PetSmart Huntington Station).
** Public TNR Clinics Suspended: In accordance with NYS regulations during the crisis, Last Hope will not be holding any public TNR (Trap/Neuter/Return) clinics for feral cats because of the public health risks of having a group of people working closely together.
**Supply Donations: Last Hope Appreciates Your Generosity but for the Duration of the pandemic, We CANNOT Accept DROP -OFF Supply DONATIONS. For public health reasons, please do not PERSONALLY bring blankets, towels, beds, pet food, crates, carriers, petfood, etc to our Wantagh Adoption Center.
CLARIFICATION:
However, Last Hope CAN accept new donations shipped DIRECTLY from Amazon, Walmart, Costco etc. We DO need paper towels.
(Of course, like everyone else we need supplies like masks and gloves that are back-ordered everywhere). Thanks in advance!!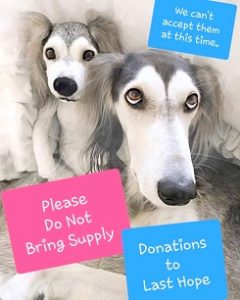 Please Stay Safe and Well! We are so grateful for everyone's support and offers to help during these difficult times and are looking forward to resuming rescue at "full power" soon.