Is LITTLE DEBBIE so little that she is easily overlooked?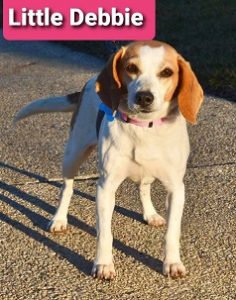 Maybe. LITTLE DEBBIE is a sweetie just like her sweet treat name. She's only 16 pounds, so petite and quiet.
She is 6 years old, and yet another discarded Kentucky Beagle . She is a lovebug but a tad timid. She would do best living with low key dogs and low key kids.
The side photos show you how tiny this deserving dog really is.
To meet LITTLE DEBBIE by appointment at Last Hope in Wantagh, please complete and submit a dog adoption application found on the Last Hope website homepage.
I've found my forever home! Thank you!