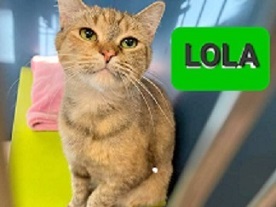 L-O-L-A, LOLA
She walked like a feral; but now talks like a pet.
LOLA had a tough 2 years of life. She was trapped by John Debacker on the streets of Rosedale with her 5 kittens- 2 were dead.
Thought to be feral, she raised her absolutely gorgeous daughters -TIFFANY, GUCCI & COACH- behind a blanketed cage in the midst of the Last Hope Wantagh Adoption Room.
She did a great job, & ,surprisingly, was not disturbed by the foot traffic & sneak -peekers going by.
Once her kittens were weaned & her curtain removed, LOLA presented with a calm demeanor.
She is a lovely 2 year old tabbico, who deserves her chance at the "good life" just like her 3 daughters.
Consider adding LOLA to your family. She will sing her namesake song to you & make you smile.
I've found my forever home! Thank you!