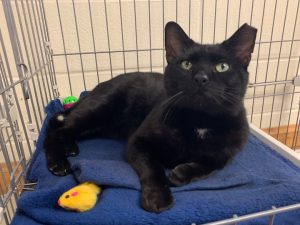 LUCKY Wants YOU to Notice Him. He Knows Black Cats are so Often Overlooked He DOESN'T have an Evil Twin. On the Contrary..All 9 Lives 'Purrsonas" of LUCKY are super-friendly. That's how he was noticed the first time.
Poor LUCKY (an oxymoron), about 5 yrs old, was surviving at a huge feral colony in Coram. He was targeted for trapping because he had an injury. He was neutered after capture too. While recovering with his foster Mom Jenny, LUCKY presented himself as an amiable & socialized cat. We will never know why or how this Big Fella ( 13 lbs) wound up at a feral colony, but we DO KNOW LUCKY deserves a Wonderful Home .
He has struggled & suffered enough. LUCKY came to the right place. Last Hope aims to find him that Wonderful Home.
So if you are interested in learning more about him, please send us an email to lasthopeadoptions@gmail.com or fill out an application from our website.
I've found my forever home! Thank you!