Look at LUIGI..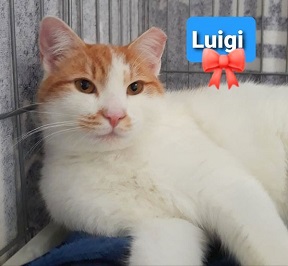 Isn't he handsome in a suave,
continental cat way?
Can you hear him meowing with
a slight Italian accent?
Are you able to picture him sharing spaghetti & meatballs with YOU in that Lady & the Tramp way?
Ok . All kidding aside.
LUIGI is a friendly fellow rescued in Bay Shore recently. He celebrated his 1st birthday in Nov.
He would love to find a FOREVER Home with folks who will "pampurr" him.
To meet LUIGI by appointment at Last Hope in Wantagh, please complete and submit a cat adoption application found on the Last Hope website homepage.
I've found my forever home! Thank you!