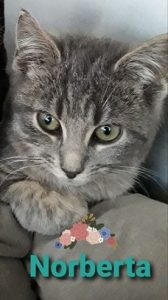 Her name was NORBERT 'til we learned he was a she. So this pretty tabby baby is re-christened NORBERTA.
Such a long name for a kitten…NORBERTA belongs to the Mini Mineola Mob captured just before our Last Hope Kitten Snip Clinic on Nov. 22. The Kittens have Harry Potter-themed names.
She is recovered from her spay and being enlightened each day about how our volunteers treat kittens like precious royalty.
NORBERTA loves feline full body massages as do her sisters & cage mates HEDWIG & ARABELLA.
They moved into foster care after a week at the Cat Center and have relaxed so much more.
NORBERTA is 2.5 months old- ready & willing to continue her enlightenment & massages in a FOREVER Home.
To meet NORBERTA by appointment at Last Hope in Wantagh, please complete and submit a cat adoption application found on the Last Hope website homepage.
I've found my forever home! Thank you!