"What do you mean we don't have any applications?!?"
Mommy Maia and Baby Beatrice are a bonded pair waiting impatiently for their forever home! Maia was rescued when she was found severely injured from the left hand lane of the Cross Bronx Expressway. The next day she had a litter of premature kittens. Beatrice is the only survivor. These two love people and they love each other!
Maia is a young, friendly, calm and gentle two year old that chirps sweetly when you call her name. Beatrice is a fun bundle of kitten energy with the most gorgeous long haired tail.
She loves to play with toys and her mom.
We need the best home for these two where they will be loved and cherished forever!
To adopt Maia and Beatrice, Apply through our website!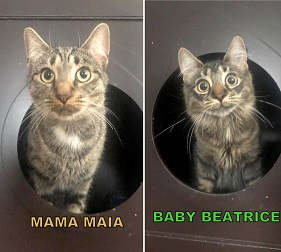 Come visit me at the PetSmart in Huntington Station, New York.
[contact-form-7 id="18343" title="mfmchugh"]