MARDY wants to Party with YOU for the Rest of Time
He belonged to a trio of look alike Beagle boys- MARDY , JACK &.MARK- who arrived together at Last Hope on the Bowling Green Kentucky transport. JACK & MARK have been adopted.
MARDY is a little timid, but then becomes a sweet boy.
When it rains, it pours discarded Beagles in Kentucky & neighboring states. MARDY is about 5.
He may not be a good rabbit hunting dog, but MARDY , as well as the rest of our homeless Beagle ensemble, will readily find & steal YOUR Heart.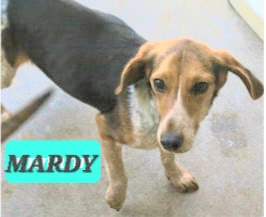 I've found my forever home! Thank you!