MILLIE is a Golden Girl.
A Golden Girl from Georgia.
A Golden Retriever Mix Girl Rescued from a Crowded Georgia Shelter.
A 1 year old Golden Girl, Ready to Spend Her Whole Life in a Wonderful Home with a Wonderful Family.
(MILLIE has lots of puppyish pep. She will chase cats-not to hurt them, but for the fun of the chase.)
For the sake of felines, MILLIE would be best in a home without pet cats.)
Her Golden Days Will Begin at That Moment.
You can Meet MILLIE at Last Hope in Wantagh any day from 10am to 7pm.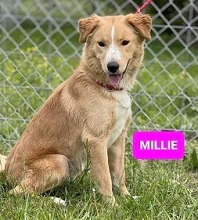 I've found my forever home! Thank you!