Meet MARSHMALLOW
She is an exquisite & friendly longhaired cat with Elizabeth Taylor blue eyes.
Found in Coram & unclaimed .
This Beauty Queen is about 1 year old.
Presently she's being treated for slight conjunctivitis.
She acts like the benevolent queen of the feline world. For a private audience with the Queen, visit our Last Hope Cat Center in Wantagh.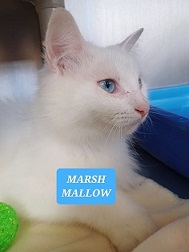 I've found my forever home! Thank you!