KATANA looks like a direct descendant of Rin Tin Tin.. Please Google, if you're unfamiliar with Rin Tin Tin.
Our beautiful German Shepherd girl walked over from Town of Hempstead Shelter. She is 2 yr old, 65 pounds and beyond SWEET.
A little timid in her new smaller surroundings but love from our many volunteers will relax KATANA faster than Rusty would have said:
"Yo, RINNIE, I see the White Buffalo!"
Meet KATANA at Last Hope in Wantagh, not Fort Apache.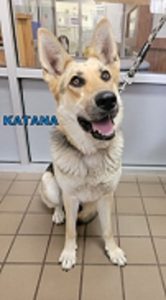 I've found my forever home! Thank you!