Is MEW the Kitten for YOU?
If so, he's waiting to meet YOU at Petco Wantagh. How could anyone say "No" to this sweet, baby tuxedo?
MEW was rescued at 6 weeks old in Plainview. His 2 tiny sisters didn't survive. Sadly, Rescue came too late for them.
MEW and his brother BAA BAA were lovingly fostered by Kathy K. His brother BAA BAA has been adopted; darling MEW is alone at the store. He's never been alone before.
MEW is a tad shy at first, then warms up and becomes a mush.
Meet MUSH at Petco Wantagh. He will be thrilled YOU took the time to visit him. Hopefully, YOU will be thrilled too.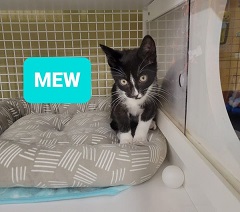 I've found my forever home! Thank you!