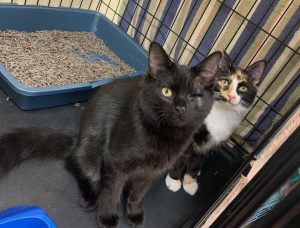 MARK & MINNIE MOUSE
A Special Kitten Couple
These feline refugees from an overcrowded Georgia shelter were saved together & should stay together FOREVER.
They stood no chance of a "Disney happily ever after" if Last Hope had not committed to taking them.
MARK is a 6 month handsome, medium-hair black kitten who needed one eye removed due to a severe infection before he could be transported to Last Hope.
MINNIE MOUSE a 6 month old, medium-hair dark calico has been his companion & cheerleader throughout their travels & his recovery with us.
She entertains & plays with her best bud MARK and has distracted him from his trauma.
They are extremely bonded & very playful!
Their Joy being together will expand to the Happiness they bestow on their Lucky Adopter. Might that adopter be YOU?
To meet MARK & MINNIE MOUSE by appointment at Last Hope in Wantagh, please complete and submit a cat adoption application found on the Last Hope website homepage
I've found my forever home! Thank you!