Calling ALL SNOWSHOE LOVERS
SIGGY & HAVANA are ready for Adoption Together.
These sensational, Snowshoe mix siblings were born in early July and trapped in Coram at 4 months old. They came to Last Hope around Thanksgiving.
They are playful & bonded so we want to place them together.
Both have alluring, aqua eyes which hypnotize YOU if you meet them in purrson. Come closer ..yes, closer…
To meet SIGGY & HAVANA by appointment at Last Hope in Wantagh, please complete and submit a cat adoption application found on the Last Hope website homepage.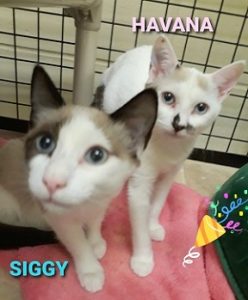 I've found my forever home! Thank you!