Poor MINNIE has all the signs of having endured a rough life in Kentucky.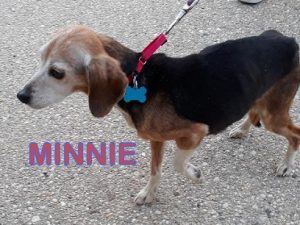 This peewee Beagle is about 8 years old, only skin & bones. Her skin is flaky and fur worn in spots. She weighs a mere 10.4 lbs.
It looks as if she's had puppies carried by her tiny frame.
Despite her hardships & neglect, MINNIE LOVES PEOPLE. She bears no grudges, but instead nudges strangers for petting.
MINNIE has more than earned the right to be treated like a Pup Princess for the rest of her life.
To meet MINNIE by appointment at Last Hope in Wantagh, please complete and submit a dog adoption application found on the Last Hope website homepage.
I've found my forever home! Thank you!