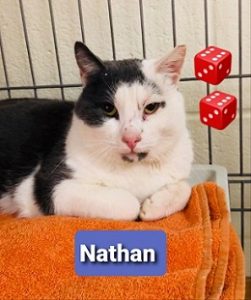 " LUCK Be a Lady" is NATHAN's musical plea sung like Nathan Detroit in "Guys & Dolls".
Think of our NATHAN as the feline Frank Sinatra.
This gentle tabby fellow knows a stroke of fortune has ready changed his life dramatically. He now resides in warmth at Last Hope.
His scratches suggest some tough times recently.
Friendly NATHAN was living among feral cats in a small Suffolk cemetery. He didn't belong there. He was trapped over the weekend, though he probably could have been picked up.
NATHAN is about 2.5 years old and hopes for one more roll of "lady luck" & that a nurturing Guy or Doll will scoop him up, and take him to a loving Home. Nathan loves the volunteers and being scratched on his head!
To meet NATHAN by appointment at Last Hope in Wantagh, please complete and submit a cat adoption application found on the Last Hope website homepage.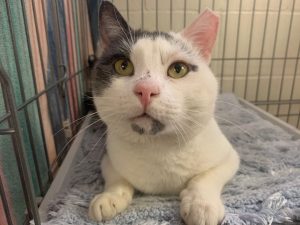 I've found my forever home! Thank you!