Meet MOCHA
MOCHA is a Beautiful Blend.
This pretty girl with baby blue eyes came to Last Hope today from Kentucky.
She appears to be a smooth, beautiful blend of Husky and Shepherd -just as mocha is a smooth, beautiful blend of coffee and chocolate.
MOCHA is smart. She knows SIT & PAW and is quite active. She will thrive with an owner who will challenge both her intelligence & energy, helping her reach her pup potential.
MOCHA is 3 yrs old and 40 lbs.
Last Hope is looking forward to meeting her.
Are YOU?
To meet MOCHA by appointment at Last, please complete and submit a dog adoption application found on the Last Hope website homepage.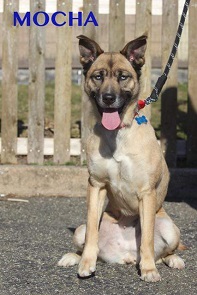 I've found my forever home! Thank you!