LET'S Make a FUSS over BUSTER
This Portly Pup is Personality Plus.
BUSTER is a 4 yr old stubby-legged Blue Heeler mix who loves to smooze with people. On his first afternoon after arriving on a Kentucky Shelter Transport, BUSTER hung out with & acted as if he were one of the volunteers.
Yes, BUSTER needs to go on a diet, and could stand to lose 20 or so pounds. He is looking for a combo adopter/ personal trainer who will help him diet and exercise in a healthy way.
BUSTER has plenty of LOVE to give back in gratitude to a pup parent who makes his well-being a priority.
To meet BUSTER by appointment at Last Hope in Wantagh, please complete and submit a dog adoption application found on the Last Hope website homepage.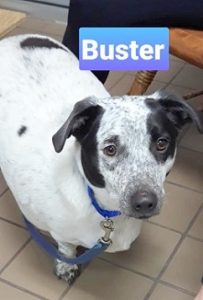 I've found my forever home! Thank you!