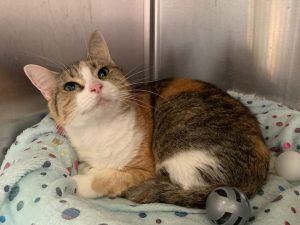 MEET MOOSHIE.
This tabbico is delightful, despite coming from an unusual hoarding situation -which is getting lots of assistance from Nassau County SPCA.
MOOSHIE is 1 of 21 cats that were cramped into a small Freeport co-op with their owner who is been told to vacate the premises.
MOOSHIE is the mother of tabbico NOI-NOI one of her kittens also now at Last Hope..
Mama MOOSHIE is posing on 2 of the many bags the owner has packed for when she goes.
We are unsure how many litters 5 yr old MOOSHIE had while living this way. Only 1 of the 21 cats was neutered…and hopefully he will become a Last Hope cat too.
Females- MOOSHIE, NOI NOI and KISSY were spayed & vetted via Nassau County SPCA, then delivered to Last Hope where they recuperate several days before being ready for adoption.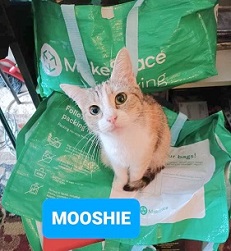 MOOSHIE is PETITE & SWEET…as are the rest of the cats still awaiting rescue placement or permanent homes.
To meet MOOSHIE at Last Hope soooon, please complete and submit a cat adoption application found on the Last Hope website homepage.
Come visit me at the PetSmart in Huntington Station, New York.
[contact-form-7 id="18343" title="mfmchugh"]