ODIE a tiny treasure from a Texas shelter arrived on a rescue transport
ODIE didn't let a windbag named Henri stop him. He was determined to become a Last Hopeful pup before the storm got here.
Now for ODIE's story:
" He's a young dapple Chihuahua mix from Lancaster TX shelter.
This cute tiny little guy is only about 10 pounds. Owner release by someone unable to care for him. He was being kept in the shelter cat room – he is a little guy. FYI, he needs out ASAP because he was put on antibiotics for kennel cough & really needs to see a vet."
Welcome ODIE to the Last Hope fold.
On weekends, you may visit the Last Hope dogs from 10 to 6pm and the cats from noon to 5pm.
   On weekdays, you would need to complete and submit a dog adoption application first before you can meet ODIE by appointment at Last Hope in Wantagh, The dog application is on the Last Hope website homepage.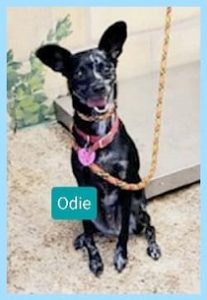 I've found my forever home! Thank you!