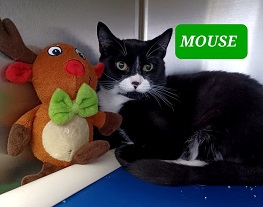 MOUSE is a Newbie at Last Hope
This 1 yr old joined our feline adoptables this week. And it would be great if she found a home quickly.
MOUSE has a pretty, feminine tuxedo face, and a super sweet way about her.
You can see for yourself, and meet Miss MOUSE at Last Hope in Wantagh from Wed. through Sun. without an appointment as long as you are wearing a face mask.
I've found my forever home! Thank you!