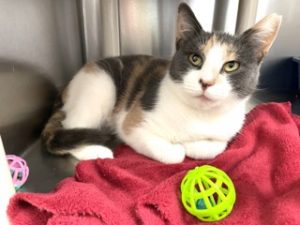 Ms.COOKIE wants the message inside her for feline fortune cookie to read: " You Will Soon Enter a Loving, Forever Home." Please assist her in making this slip of paper come true. Please SHARE her adoption premonition. Ms. COOKIE is a pretty 2 yr old dilute calico , part of the 11 precious cat cargo on the August rescue transport from overcrowded Athens Clark shelter in Georgia. She came so far to find good fortune. Meet this sweetie at Last Hope in Wantagh. If you choose to adopt Ms. COOKIE, she'd be tickled pink if a small "Welcome Home" portion of chicken chow mein were waiting in her new dish for her to enjoy.
If you are interested in learning more about her, please send us an email to lasthopeadoptions@gmail.com or fill out an application from our website.
I've found my forever home! Thank you!