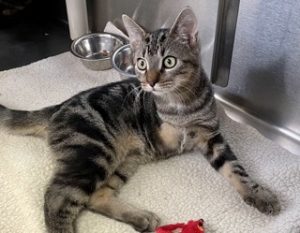 OCEAN & RIVER: Where Salt & Fresh Water Blend
Amputee tabby RIVER was reunited with his fluffy tortie sister OCEAN after he recovered from surgery.
They were rescued at a Bohemia trailer park at 13 weeks old by Last Hope prez Linda and fostered by volunteer Kathy B.
RIVER had a terribly swollen paw when saved, & wound up with a front leg amputated.
Now at Last Hope in Wantagh, the duo stay side by side.
They are a purrfect kittens to adopt Together or Separately.
Meet them at Last Hope in Wantagh.
If you are interested in learning more about them, please send us an email to lasthopeadoptions@gmail.com or fill out an application from our website.
I've found my forever home! Thank you!