Mercy Me! MURPHY is so Thin.
This sweet fellow – possibly a Beagle & Smooth Fox Terrier blend- arrived on a long distance Texas transport.
He is only 2 years, yet looks as if he has endured a tough 2 years. MURPHY is very skinny, and the side of his mouth is slightly off kilter. I am only guessing, but he looks like he was grazed by a car, or hit by something.
Despite his background, MURPHY seems thrilled with our volunteers & all the attention he is getting.
MURPHY doesn't know yet but
his Good Life has only just begun, and the Best ( a Real Home) is yet to come.
Help MURPHY get into that Real Home Soon.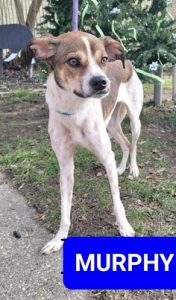 I've found my forever home! Thank you!