NOVA means "New", and our Lab mix NOVA is about to start her New Life.
This 3 year old blonde, 32 pounds, is a pet victim of a divorce. She is quite thin- too thin..
She is arriving at Last Hope today from Amherst Humane in Virginia where she was an owner surrender.
Previously she lived with 2 kids, a dog and a cat. She gets along with other dogs but freezes in a shy way when a hyper dog charges at her face, But wouldn't you freeze too?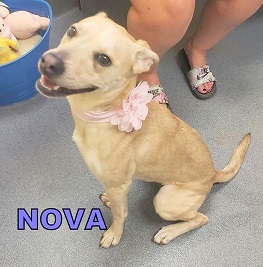 NOVA would love to start over anew with a loving, forever family.
On weekends, potential dog adopters are welcome to visit Last Hope in Wantagh without an appointment from 10 am to 6 pm. Masks are a Must.
I've found my forever home! Thank you!