AMY is a pretty 9 month old Pointer mix. She showed up on a family's front porch & refused to leave so they brought her to their local Georgia shelter. No owner claimed her. AMY weighs about 34 pounds.
She is easy going and friendly to all.
Is our pretty Pointer pointing in YOUR direction?
To meet AMY by appointment at Last Hope in Wantagh, please complete and submit a dog adoption application found on the Last Hope website homepage.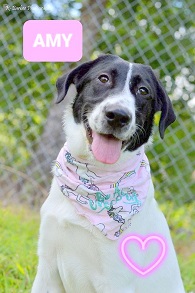 I've found my forever home! Thank you!