OLLIE is Eagerly Anticipating His First Indoor St. Patrick's Day, and then Hopefully his REAL HOME .
OLLIE has spent his whole life-TEN YEARS- yes, a decade-living outdoors. He was rescued by a Last Hope volunteer recently when his caretaker was placed in a nursing home.
Look at OLLIE licking his lips thinking about corned beef . He will politely pass on the cabbage.
OLLIE is lovable and quite outgoing for a cat who has never known the warmth & kindness inside a home.
This friendly fellow is hoping the "Luck of the Irish" will bless him soon with an adopter who cherishes spunky & spirited, senior kitties .
To meet OLLIE at Last Hope in Wantagh, please complete and submit a cat adoption application found on the Last Hope website homepage.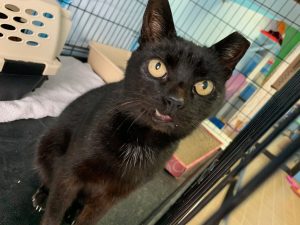 Come visit me at the Adoption Center in Wantagh, New York.
[contact-form-7 id="18343" title="mfmchugh"]