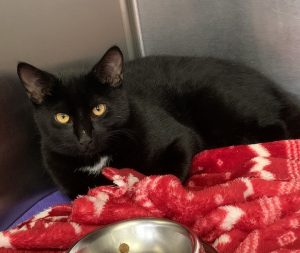 Onyx is a gentle, sweet and special boy looking for a special home to call his own. Onyx just turned 1 year old and is hoping to celebrate by finding a forever home.
Onyx is a nice boy who enjoys pets on his head and when you talk to him. Onyx is a little timid but relaxes when you give him time to warm up.
Onyx has CH- Cerebellar Hypoplasia, a neurological condition which causes him to be "wobbly."
Onyx needs a safe, accommodating home for his needs. Onyx hopes to find someone who will love him forever and support him and his needs.
If you are interested in learning more about Onyx and possibly adding him to your home, please fill out an adoption application from our website.
I've found my forever home! Thank you!