PEBBLE is Praying for a Christmas miracle,
or a Christmas Eve miracle, or a New Year's Eve miracle, or a New Year's Day miracle of finding another loving home.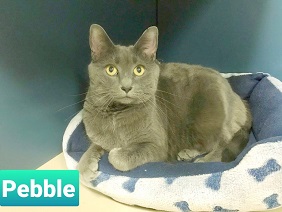 At 7.5 years old, this gorgeous, grey/blue gal is at a loss to understand why she lost her long-time home suddenly.. PEBBLE is Perplexed. She didn't do anything wrong.
PEBBLE doesn't know a bedridden, elderly relative who is allergic to cats moved into her house, and PEBBLE's distraught family had no other choice but to return PEBBLE to Last Hope after many years together.
PEBBLE is very friendly & forgiving. She charms volunteers with her purring.
She & Last Hope really hope someone kind will make her Holiday Adoption Miracle Happen.
I've found my forever home! Thank you!