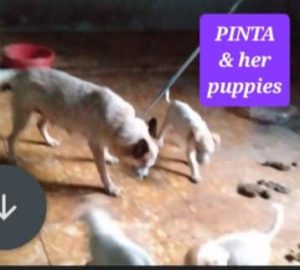 ?Poor PINTA..Comes to Last Hope with a Dark Background Story, but, Hopefully, a Brighter Future.?
This pretty 2 yr old Red Heeler was tied up at a farm where she was impregnated by local dogs.
From the bottom photo, it appears PINTA nursed & raised her pups while still chained.
The pups were adopted but PINTA remained in her sad predicament, and to add "salt to her wounds", PINTA is now heartworm positive.
Last Hope couldn't leave her there to continue to be bred on a chain, and to suffer the ravishes of untreated heartworm disease.
PINTA should be good with kids. Heelers are highly intelligent & tend to "herd" other animals so they stay in the "right" place. Therefore, we expect her to be good with other dogs on a case by case basis.
PINTA is looking for a relatively quiet Foster-to-Adopt Home while Last Hope pays for & monitors her soon to begin heartworm treatment.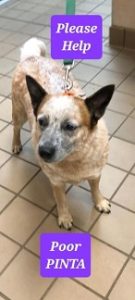 Come visit me at the Dog Adoption Center.
[contact-form 3 "Dog Adopt"]