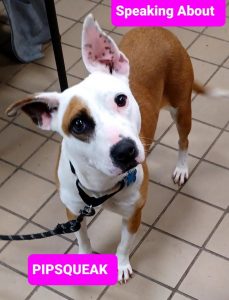 PIPSQUEAK Came to Last Hope for  a Better Life

She is a confiscated victim of a cruelty case in Georgia. She is also a 27 lb. one year old darling dog.
From her Georgia sending shelter:
"PIPSQUEAK came into our shelter by court order; the owner was cited for having unsanitary living conditions and was instructed to have a kennel built- the owner did not comply.
And therefore all 7 dogs were confiscated by animal control. Our thought process was to euthanize the dogs upon intake due to lack of space and our expectations that pit bulls living on chains may have behavior issues,
but after seeing their happy, loving personalities we are now confident in advocating for rescue."
And our PIPSQUEAK does have a happy, loving temperament and our promise to find her a fabulous family. Presently, PIPSQUEAK is in a foster home over the holidays, but she can meet prospective adopters by appointment.
Please complete and submit a dog adoption application so we can set up an appointment for you to meet PIPSQUEAK at the Wantagh Dog Center.
I've found my forever home! Thank you!