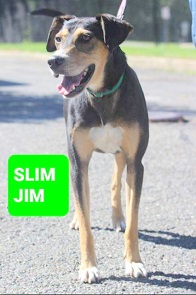 SLIM JIM had a Slim Chance of Ever Living a Good Life if he Stayed in Georgia.
Last Hope ventures to say his Luck has Improved 1000% by joining our Adoptable Dogs.
Get ready for his sad background story:
"SLIM JIM was brought to the shelter as a stray. Here is what the owner said, "showed up 2 weeks ago, found him living in the barn. Good with other dogs, even small dogs and kids. Killed their king snake, but otherwise a good dog."
He clearly had not been well taken care of before he came to our shelter. He had an old injury from a bullet wound and his ear had been torn.
SLIM JIM is now in a foster home and obviously he was meant to be a spoiled couch potato instead of a stray.
He is house trained and gets along with other dogs really well.
He is great at reading other dogs body language and listens to their cues.
JIM loves old-fashion donuts from Dunkin' and cuddling anytime.
He enjoys playing with toys, but like a true hound he is happiest when he's sniffing and exploring."
How about inviting SLIM JIM to your home for the next 10-15 years so he can sniff, explore, cuddle & snack on old-fashion donuts from Dunkin'?
To meet SLIM JIM by appointment at Last Hope in Wantagh, please complete and submit a dog adoption application found on the Last Hope website homepage.
I've found my forever home! Thank you!