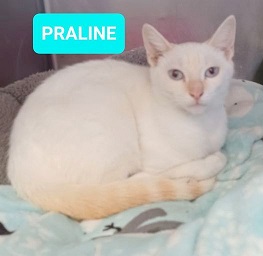 PRALINE from Puerto Rico is Precious.
He is a 5 month old Flamepoint Siamese with azure eyes that mesmerize.
He came to Last Hope as part of a Sato Project Rescue Flight after the terrible tropical storms & hurricanes.
Presently he shares a cage at Last Hope in Wantagh with one of his buddies from Puerto Rico. His buddy has an application, but PRALINE doesn't yet.
As a Flamepoint & Fabulous Kitty, PRALINE will brighten & light up your life if you give him a FOREVER HOME.
I've found my forever home! Thank you!