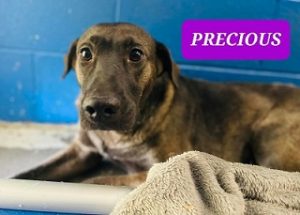 PRECIOUS, She Is.
In Name & In Demeanor.
This Beautiful Lab mix is almost iridescent in color. Black with a brown/silver patina.
PRECIOUS is a Georgia shelter rescue. She is 2 years old & 45 pounds.
Incredibly Sweet, but Frightened & Shy when First You Meet in her Run.
Once outside, PRECIOUS begins to blossom.
Meet PRECIOUS at Last Hope Dog Center in Wantagh any day from 10am to 7pm.
I've found my forever home! Thank you!