Meet REESE KITTENSPOON
She's a pretty 2 yr old tabbico with white toes & nose, rescued in Middle Island & fostered by her rescuer Cheryl.
Socializing outdoor adult cats is both an art & a science.
Let Cheryl explain more:
"REESE was dropped off at Last Hope ready for adoption. She touched our hearts deeply. I've been at the rescue game awhile now and she was one of most feral I've attempted to socialize.
She came around so beautifully and although she likes other cats, she prefers her person over cats.
REESE will make a beautiful companion for someone who has a soft lap to lay on and a free hand for petting. She'll pay them back with morning head butts and kisses on the lips with each greeting.
Knowing how far we have come, putting her in the carrier and into foreign surroundings, she looked a me as if she misplaced her trust in me.
You can't save them all, nor can you keep all the ones you do save.
I know her best life is before her and we will celebrate the day she finds her forever home.
REESE, we'll miss your loving face and flops on our feet. Always in our heart, onward and upward."
To meet REESE by appointment at Last Hope in Wantagh, please complete and submit a cat adoption application found on the Last Hope website homepage.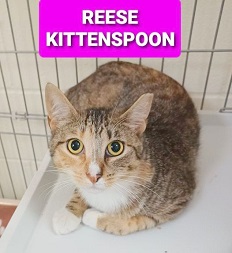 I've found my forever home! Thank you!