She's not VENUS in Blue Jeans; instead She's VENUS in a Domestic Medium-Haired Tabby Coat
VENUS & her 4 littermates- FINLAY, LUNA, TAHOE and GEMINI moved from their Foster Home to a satellite adoption center store.
These cuties were rescued at 4.5 weeks in Bellmore, and have been with their Foster Mom Elizabeth since then…except for the day they were taken for their Big Snip in preparation for Adoption. Now they're at Petsmart Bellmore.
VENUS, pictured below , is a 3 month old fancy pants. She insisted she get the first Last Hope Inc FB post, before any of her siblings.
Who am I to argue with such a tiny feline goddess of beauty?
You can see VENUS at Petsmart Bellmore but to meet her by appointment, please complete and submit a cat adoption application found on the Last Hope website homepage.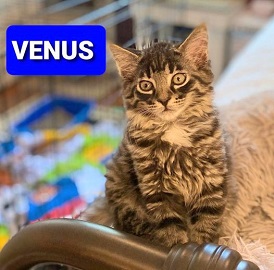 I've found my forever home! Thank you!