REINHEART, REINHART, RHINEHART, RHINEHEART, REINHARDT….no.matter how you spell his Kentucky name…He needs a Foster-to-Adopt Home while he Undergoes Treatment for Heartworm.
. His Foster-to-Adopt Family will be Fixing REINHEART 's broken heart both physically & emotionally.
This 4 yr old LoverBoy tested positive for Heartworm (from infected mosquitoes) while in a Kentucky shelter.
Last Hope knew we would be doing his immiticide injections but he did start his pretreatment month of doxycycline pills in Kentucky.
Last Hope will be financially responsible for the expense of his full treatment and making sure he tests Heartworm negative after the post-treatment waiting period is over.
The Foster-to-Adopt Family provides a loving setting where Reinheart can recover quietly without vigorous exercise.. This setting hopefully will become his FOREVER Home after the Family falls in love with our dear Beagle Boy.
For more info, contact Last Hope.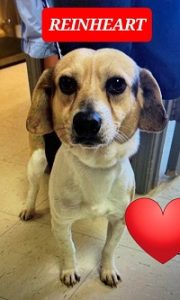 I've found my forever home! Thank you!