ROSEMARY wants to be Your Baby
ROSEMARY & her "kittermates"-SAGE & THYME- are at Last Hope in Wantagh.
They were discovered as friendly kittens stranded at a cat colony, and fostered by their kind rescuer..
About 6 months old now, ROSEMARY has subtle Bengal spots on her tabbiness.
ROSEMARY has excellent pet kitty potential. Let her grow up at your side.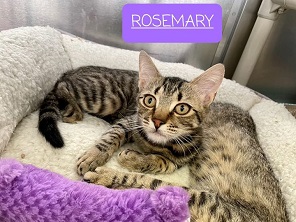 Come visit me at the Adoption Center in Wantagh, New York.
[contact-form-7 id="18343" title="mfmchugh"]