SPONGEBOB- the Feline Version Bears No Resemblance to the Cartoon Character.
This handsome fellow arrived on a Georgia rescue transport with this unusual name.
Our 2 year tabby bears no grudge about his name. He is thrilled he was chosen for the long ride, offering him the opportunity for a long happy life in a real home via Last Hope.
His Georgia shelter. home prospects, if he had stayed, were dim, actually next to none.
Meet SPONGEBOB at Last Hope in Wantagh. Adopt him, & you are welcome to change his name too.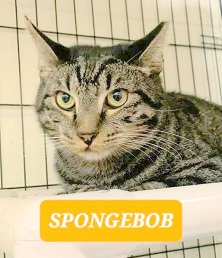 I've found my forever home! Thank you!