"RUSTY Never Sleeps, "as Neil Young would sing.
This 8 lb. 8 year old Chihuahua cutie arrived from Kentucky. When he arrives, he was so skinny, that his ribs did show.
Last Hope volunteers have been fattening up his skeleton & spirits . Now we see a prance in his gait, and a faint smile on his face.
But RUSTY still Never Sleeps because he is worried he will never find Home Sweet Home.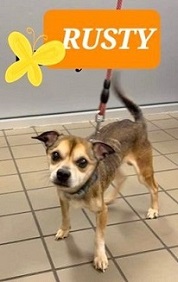 I've found my forever home! Thank you!