SALEM is Cuteness & Uniqueness –
Wrapped in a Small Pup Package?
He is a Kentucky Kanine, only 16 pounds & 10 months old.
He looks like a leggy Basenji ; his tail is curled, yet not as tightly as a real Basenji.
.. His coloring shows clustered brindle patches toward his rear, and the brindle splotches fading on his body.
He prances; he dances; he's adorable & looking for someone to embrace him Forever.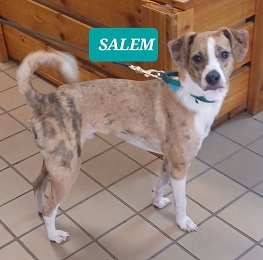 I've found my forever home! Thank you!