SANDIE Has Something to Say.
Please Listen Up:
"Hi, Everyone. I want you to know I moved to Petsmart Huntington along with LUKE & LEIA, the bonded brother & sister orange beauties from Puerto Rico. I haven't met them yet, but I've heard they are lovely. "
SANDIE, a 1 yr old tuxedo, was rescued near the Islip apartment where a former renter abandoned her.
SANDIE is hoping Petsmart Huntington will be filled with potential adopters wanting to take her Home; and other adopters crying to take LUKE & LEIA Home Together.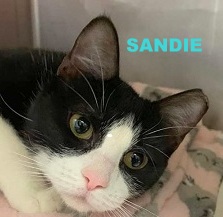 I've found my forever home! Thank you!