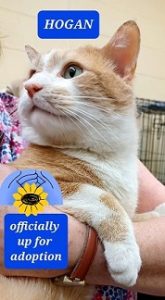 HO, HO, HO, Hulk HOGAN is Officially on the Adoption Floor at Last Hope in Wantagh.
On Saturday, he tagged along with DUKE our new Bloodhound for the ride to Last Hope from Town of Oyster Bay Shelter .
They shared a Last Hope volunteer uber.
HOGAN is a big fellow, about 3 years old..
He is a MUSH..rolling over for petting, affection & attention. A huge hunk of love.
HOGAN got his Seal of Approval from our Veterinarian last might.
He is eager for a Seal of Approval from a prospective Adopter, one who owns a Big Carrier.
I've found my forever home! Thank you!